When:
March 7, 2022 @ 6:00 pm – 7:00 pm
2022-03-07T18:00:00-06:00
2022-03-07T19:00:00-06:00
Contact:
Diane Schmidtke
(651) 480-7729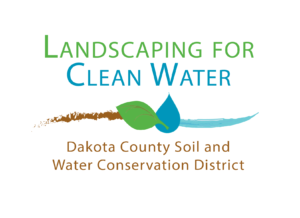 Landscaping for Clean Water Intro Course 2022
Need some inspiration for your garden, but don't know where to start? Want to learn how incorporating native plants into your garden can add amazing water quality benefits to your property? Looking to exercise your green thumb, but want advice on planting pollinator habitat? Knowledge gained through the Landscaping for Clean Water program will inform and empower you to create a raingarden, native pollinator garden, or shoreline planting that will bring beauty and great environmental benefits to your property this year and for many to come!
In 2022, the Landscaping for Clean Water program will celebrate its 16th year of educating and assisting residents to install beautiful and low-maintenance plantings. Over the years, we have met with close to 5,200 landowners and installed over 660 projects in neighborhoods all around the county. This program is offered to residents through a partnership between the Dakota County SWCD, and local cities and watershed organizations.
This year's suite of programming – Introduction to Clean Water Class, Design Course, and Maintenance Workshop – will provide skills and resources to landowners at every stage of their gardening journey.
The free Introduction to Clean Water class focuses on general water quality practices of raingardens, native gardens, and shoreline stabilizations. The classes provide an overview of local water quality challenges and provide beautiful and practical ways of reducing runoff pollutants that are causing issues. It also includes information on cost-share opportunities available to Dakota County residents.
After completing the Introduction to Clean Water class, you can enroll in the Landscaping for Clean Water Design Course. This course is a great for those interested in learning about garden planning from the experts, whether you want to know more about site design, plant selection, raingarden installation, or the best plants for our landscape. Participants walk away with a ready-to-install garden!
The Landscaping for Clean Water Maintenance Workshop provides season specific information on how to maintain and promote the health, performance, and beauty of your garden. Maintenance workshops apply to raingarden, native garden, or native shoreline restoration projects.