Volunteer Opportunities
Imagine yourself as a citizen-scientist, up to your waders in a wetland, assessing aquatic plants and insects, checking your environment's "vital signs." Visualize standing in a stream using a Secchi tube to measure water transparency. See nature in a new light while you plant trees to shade trout streams, remove invasive species, or clean up stream debris. The VRWJPO offers these and other opportunities for you to put yourself in the picture and experience the watershed first-hand.
Wetland Health Evaluation Program (WHEP)
The Wetland Health Evaluation Program (WHEP) trains volunteers to collect data on wetland plants and macroinvertebrates, providing information to local governments about the health of specific wetlands. No experience is necessary. Training is provided. Citizen teams are guided by a team leader. Volunteers spend between 15 and 30 hours from late May through early August checking on wetlands in their communities.
Join one of these teams: Apple Valley, Burnsville, Dakota County Parks, Eagan, Farmington, Hastings, Lakeville, Mendota Heights, North Cannon River Watershed Management Organization, Rosemount, South St. Paul, and West St. Paul. Each team collects data on up to five wetlands.
Vermillion Stewards
Vermillion Stewards is a volunteer program giving people the opportunity to participate in hands-on educational programs, including prairie ecology hikes, prairie seed collections, clean-up events, streambank and lakeshore restoration projects, trout surveys, and more.
Projects and programs vary throughout the spring, summer, and fall, and volunteers can sign up for those that hit a specific interest. Learn what events are coming up next. The Friends of the Mississippi River (FMR) plans and implements the Vermillion Stewards program, with financial support from the VRWJPO.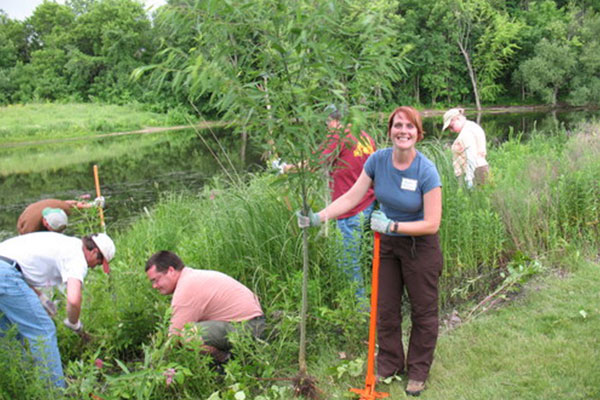 The Vermillion River Watershed Joint Powers Organization (VRWJPO) invites residents to become Master Water Stewards (MWS). The MWS program provides training and opportunities for residents to protect and improve water quality and habitat.
Freshwater Society developed the program in 2013. The VRWJPO is one of many partners sponsoring the MWS classes.
The cost to enroll in the program in the Vermilion River Watershed is $125 per person, which covers course fees and field trips. The cost will be reimbursed to participants upon certification as a Master Water Steward. Scholarships may be available for situations of demonstrated financial hardship.
For more details and to apply, visit masterwaterstewards.org.
The application deadline is annually in mid-September. Direct questions to the Vermillion River Watershed, paula.liepold@co.dakota.mn.us or (952) 891-7117.
Vermillion River Watch
The Vermillion River Watch Program engages individuals, school groups, and community members in monitoring the health of the Vermillion River.
Volunteers participating in the Vermillion River Watch Program visit their stream monitoring site once per week to monitor water transparency (using a Secchi tube), water level, and the general appearance of the stream (water color and recreational suitability). The monitoring data collected by River Watch volunteers is submitted to the Minnesota Pollution Control Agency (MPCA) at the end of the field season. It supplements other water quality monitoring efforts taking place along the Vermillion River.
The Vermillion River Watch Program is coordinated for the Vermillion River Watershed Joint Powers Organization through the Dakota County Soil and Water Conservation District.